2023 was the fourth year YFCC has hosted the Inspiring Youth Awards, and it was by far the most successful with 55 young people nominated across the Coast. The Inspiring Youth Awards seek to recognise and celebrate the positive contributions that young people make to the North West Community every single day.  The nominations were for many varied and generous acts, from fundraising for charities, supporting friends through challenges through to young people overcoming significant adversity or challenges. The most popular of our three categories, was the Quiet Achiever which speaks to the exact sentiment of these awards.
On Wednesday October 4th we hosted the awards presentation luncheon and were overwhelmed by the 170 attendees, all of whom were there to show their support for the North West Coast's young people. Each nominee was recognised and received a congratulatory certificate, while having their nomination read aloud for all attending to hear. The winners for each category were:
The High Five: Bill Butcher (Burnie)
The Quiet Achiever: Maverick Radford (Ulverstone)
The Great Mate: Mitchell Bonney (Cooee)
YFCC thanks those who took the time to nominate a young person and offers a massive congratulations to all our nominees and winners, we look forward to doing it all again in 2024!
YFCC CEO Ros Atkinson congratulates The Great Mate winner, Mitchell Bonney.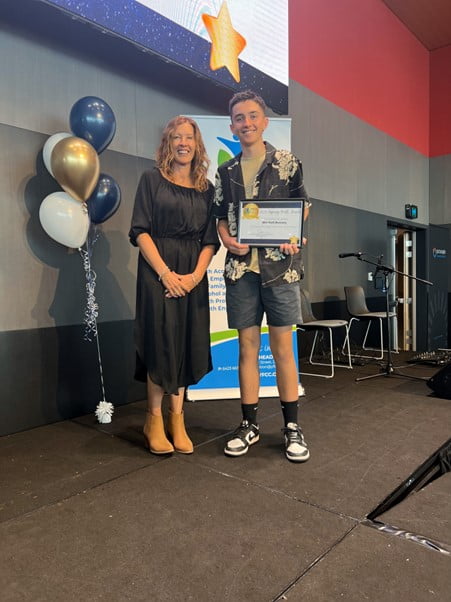 Community Members coming out to celebrate young people.